Monarchs of the World, 1904
(at the time of the St. Louis World's Fair)
Country
Sovereign
Born
Acceded
Austro-Hungarian Empire
Emperor Franz Joseph I
18 August
1830
2 December
1848
Liechtenstein
Prince Johann II
5 Oct
1840
12 Nov
1858
Montenegro
Prince Nikola I
7 October
1841
13 August
1860
Greece
King George I
24 December
1845
27 June
1863
Denmark
King Christian IX
8 April
1818
16 November
1863
Korean Empire
Emperor Gwangmu
8 Sep
1852
13 Dec
1863
Belgium
King Leopold II
9 April
1835
217 December
1865
Romania
King Carol I
20 April
1839
20 April
1866
Japanese Empire
Emperor Mutsuhito
3 November
1852
3 February
1867
Siam
King Chulalongkorn
20 September
1853
1 October
1868
Sweden & Norway
King Oscar II
21 January
1829
18 September
1872
Chinese Empire
Guangxu Emperor
14 Aug
1871
25 Feb
1875
Nepal
King Prithvi
18 August
1875
17 May
1881
Ottoman Empire
Sultan Abdul Hamid II
22 September
1842
31 August
1876
Afghanistan
Emir Abdur Rahman Khan
31 May
1880
Spain
King Alfonso XIII
17 May
1886
17 May
1886
Bulgaria
Prince Ferdinand I
26 February
1861
7 July
1887
Muscat & Oman
Sultan Feisal bin Turki
1864
4 June
1888
German Empire
Emperor Wilhelm II
27 January
1859
15 June
1888
Ethiopia (Abyssinia)
Emperor Menelik II
17 August
1844
9 March
1889
Monaco
Prince Albert I
13 Nov
1848
10 Sep
1889
Portugal
King Carlos I
28 Sep
1863
19 Oct
1889
Netherlands
Queen Wilhelmina
31 Aug
1880
23 Nov
1890
Luxembourg
Grand Duke Adolf
24 Jul
1817
23 Nov
1890
Egypt
Khedive Abbas II
14 Jul
1874
8 Jan
1892
Morocco
Sultan Mulai Abd al-Aziz IV
24 Feb
1878
7 Jun
1894
Russian Empire
Emperor Nicholas II
18 May
1868
1 November
1894
Persia
Mozaffar ad-Din Shah Qajar
23 Mar
1853
1 May
1896
Italy
King Vittorio Emanuele III
11 November
1869
29 July
1900
United Kingdom & British Empire
Canada
Australia
King Edward VII
9 November
1841
22 January
1901
Serbia
King Peter I
29 June
1844
15 June
1903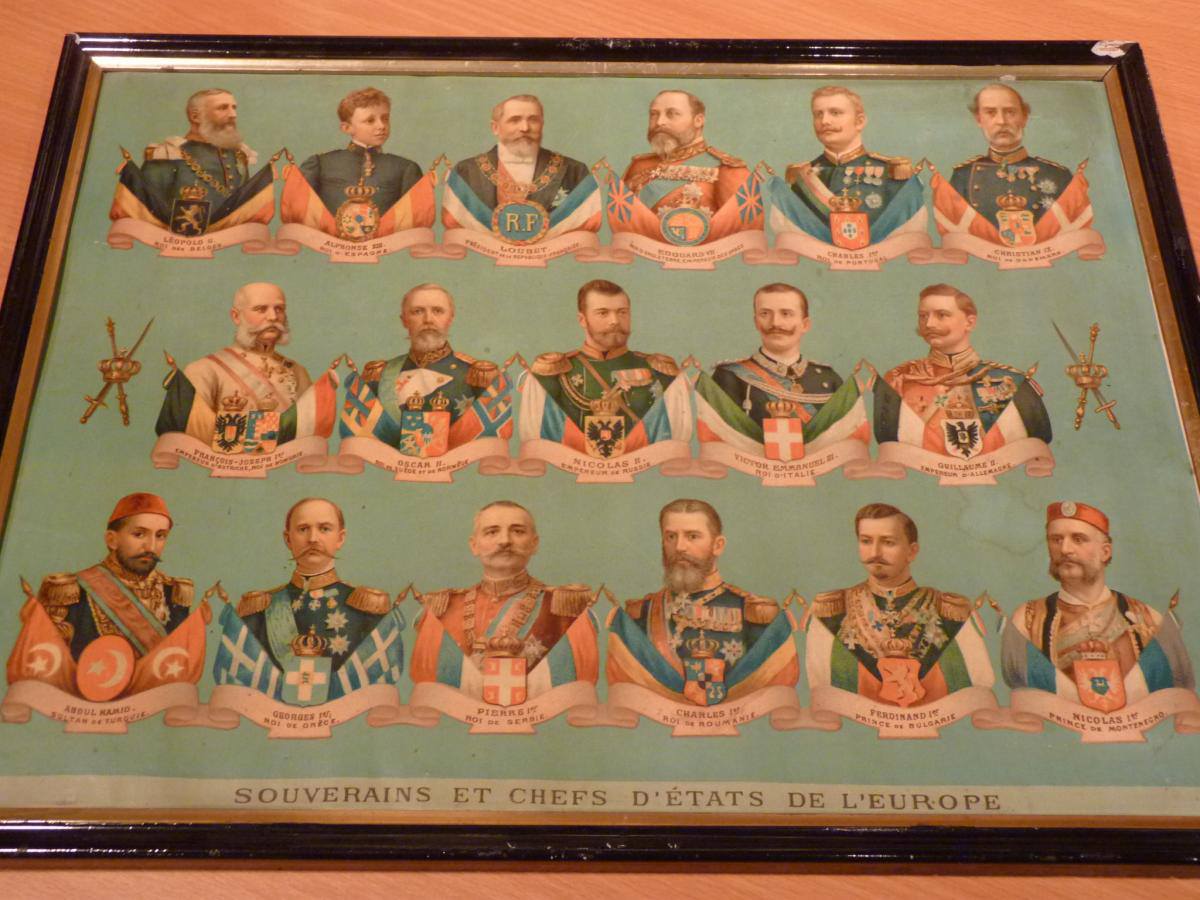 King Leopold II of Belgium, King Alfonso XIII of Spain, President Emile Loubet of France, King Edward VII of the United Kingdom, King Carlos I of Portugal, King Christian IX of Denmark.
Emperor Franz Joseph I of Austria-Hungary, King Oscar II of Sweden & Norway, Emperor Nicholas II of Russia, King Victor Emanuel III of Italy, Emperor Wilhelm II of Germany.
Sultan Abdul Hamid II of the Ottoman Empire, King George I of Greece, King Peter I of Serbia, King Carol I of Romania, Prince Ferdinand I of Bulgaria, Prince Nicholas I of Montenegro.

The Government Building at the Louisiana Purchase Exposition
European Sovereigns, 1904
European Sovereigns
Home