Sir William Walton (1902-1983)
Cello Concerto (1956)
(listen to complete performance via Dropbox)
(watch on YouTube)
Moderato
Allegro appasionato
Tema ed Improvvisazioni--Allegro molto


Theodore Harvey, cello
Susan Kitterman, conductor
New World Youth Symphony Orchestra


Sunday, November 11, 2012
Hilbert Circle Theatre
Indianapolis, Indiana


---
Program Notes
William Walton's musical career got off to an uncertain start at the age of ten. His parents had seen an advertisement seeking choristers for Christ Church, Oxford and decided William should try out. Unfortunately the night before the audition his father spent the money for the train fare on alcohol at the pub. By the time Louisa Walton managed to borrow money from a grocer and get little William from their home in Oldham to Oxford, the auditions were over. She convinced the cathedral authorities to hear her son anyway, and since as soon as they did it was obvious that he was a major talent, they immediately accepted him into the choir despite the irregularity. (One wonders what sort of discussion the Waltons had when Louisa returned.) The young Walton blossomed as a choirboy at Oxford, where at fourteen he composed "A Litany" that is still part of the standard Anglican choral repertoire.
By the middle of the 20th century Walton (knighted by King George VI in 1951) stood at the pinnacle of British music, having written music for two coronations—the "Crown Imperial" march for that of George VI in 1937 and the "Orb & Sceptre" and Te Deum for that of Queen Elizabeth II (to whom today's soloist dedicates this performance) in 1953. He was also celebrated for his choral works, symphonies, concertos, and film scores, including Lawrence Olivier's Henry V. The Cello Concerto, reportedly Walton's personal favorite of his concertos, was premiered in Boston in January 1957 by Gregor Piatigorsky and the Boston Symphony conducted by Charles Munch, receiving its European premiere a month later in London by Piatigorsky with the Royal Philharmonic Society directed by Sir Malcolm Sargent.
In his Cello Concerto Walton reverses the standard fast-slow-fast pattern, creating a work that is more introspective and reflective than most concertos. The wistful romanticism and lush harmonies of the first movement evoke the peace of the English countryside. A wickedly delightful second movement sizzles with virtuosity occasionally interrupted by moments of heartrending lyricism. Probably the most unusual movement is the third, beginning with a solemn elegy followed by mysterious triplets and harmonics as the orchestra dies away, leaving the soloist alone for the first of two rhapsodic cadenzas, with an equally dramatic tour de force for the orchestra in between. Finally, the orchestra rejoins the soloist as the lyrical material from the first movement returns, bringing the work to a quiet conclusion.
--Theodore Harvey
---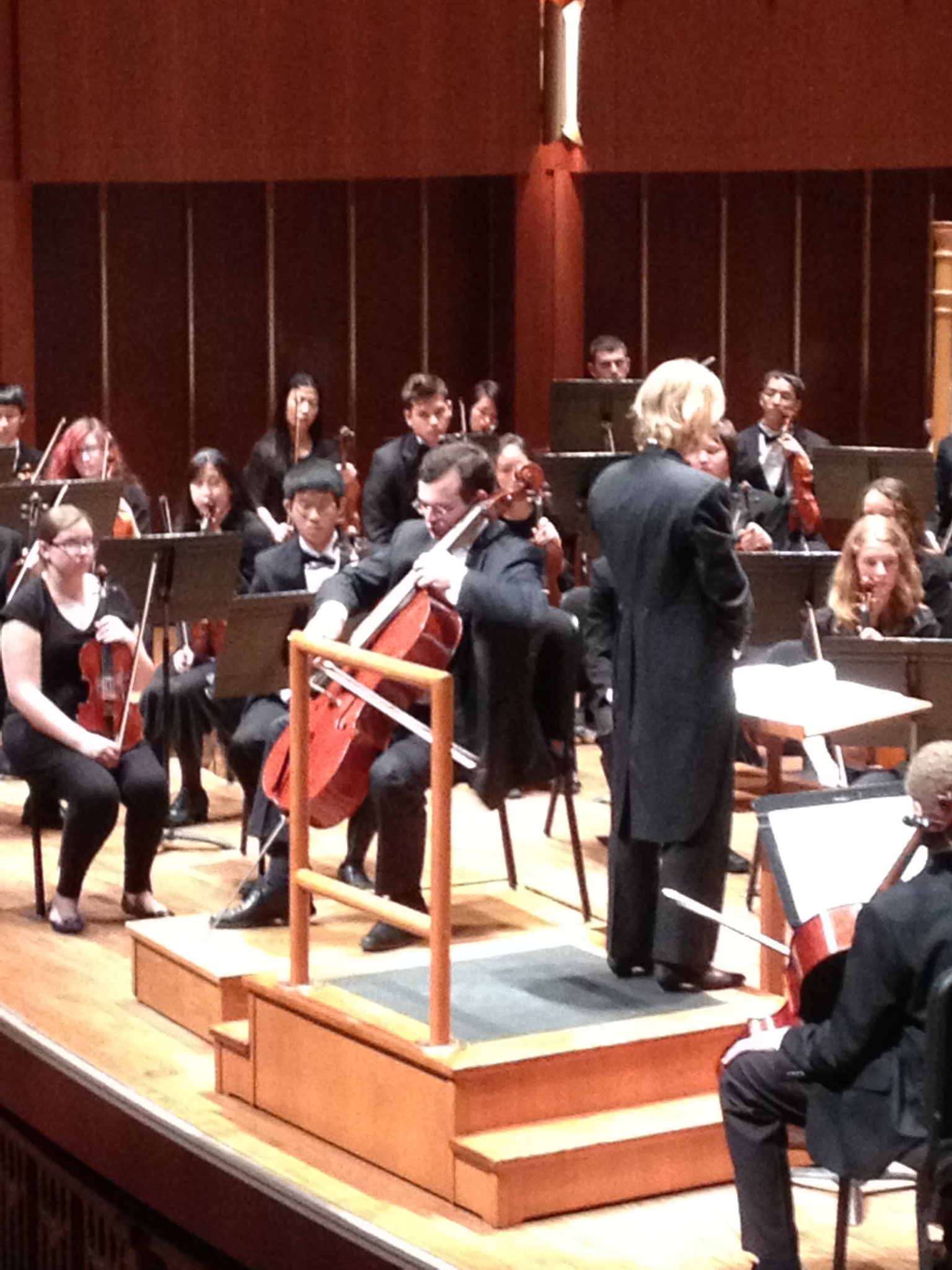 ---
Theodore Harvey, cellist in the Dallas Symphony since 2008, has performed as a soloist, chamber musician, and orchestra member throughout the United States and Europe. He has been a soloist with the New World Symphony, the Camerata Orchestra and the Indianapolis Symphony in repertoire including Prokofiev's Sinfonia Concertante and the Dvorák and Saint-Saëns concertos. As Assistant Principal Cellist of the Charlotte Symphony from 2004 to 2008, he frequently performed major orchestral solos such as Rossini's William Tell Overture, von Suppé's Poet and Peasant Overture, and the solo continuo parts for Handel's oratorios Messiah and Saul. During his time in Charlotte he was also active as a chamber musician and as an organist in local churches. In February 2006 Mr. Harvey, with pianist Paul Nitsch, gave the world premiere of his own Sonata in D Minor for Cello and Piano, which was subsequently featured on the Charlotte area's classical radio station WDAV.
Mr. Harvey was born in Flint, Michigan and grew up in Indianapolis, Indiana, where his teachers included Geoffrey S. Lapin, Polina Umansky, and Eric Edberg. Honored to return as soloist today, he was a member of the New World Youth Symphony Orchestra from 1987 to 1996 and served as principal cellist and piano soloist on its 1996 European tour. He holds a Bachelor's Degree from the Indiana University School of Music, from which he graduated with Highest Distinction in 2000, having studied with Janos Starker and Helga Winold, and completed graduate studies with Joel Krosnick at The Juilliard School in 2002. From 2002 to 2004, Mr. Harvey was a Fellow of the New World Symphony in Miami Beach, Florida. Summer festivals in which he has participated include Aspen, Sarasota, Schleswig-Holstein, Spoleto USA, Tanglewood, Verbier, Music in the Mountains, Tafelmusik Baroque Summer Institute, International Baroque Institute at Longy, and Britt. In Dallas, Mr. Harvey enjoys singing tenor in the choirs of the Church of the Incarnation and St. Mark's School and has toured England with both choirs, singing at churches such as Lichfield, Chichester, & Canterbury cathedrals, Westminster Abbey, and St George's Chapel (Windsor Castle). In his spare time he maintains the website www.royaltymonarchy.com. A keen royalist and Anglophile, Mr. Harvey would like to dedicate today's performance of the Walton concerto, which coincides with Remembrance Sunday in the UK, to HM Queen Elizabeth II in recognition of her Diamond Jubilee year.
---